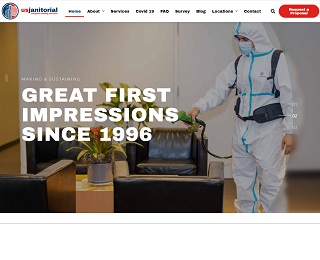 If you are looking for reliable and professional janitorial services in San Jose, look no further than US Janitorial. We are committed to providing exceptional cleaning services that meet the unique needs of your business. Our team of experts is dedicated to ensuring that your business is clean, safe, and presentable to customers and employees. Here are the benefits of our janitorial services:
Comprehensive Cleaning Services
At US Janitorial, we provide a comprehensive range of janitorial services to keep your business clean and safe. We offer daily or weekly cleaning, deep cleaning, carpet cleaning, window cleaning, and more. We understand that different businesses have different needs, which is why we customize our cleaning services to meet your specific requirements.
Experienced and Trained Professionals
Our team of experts is highly trained and experienced in providing janitorial services. We ensure that all our employees undergo extensive training to guarantee that they can provide exceptional cleaning services to our clients. Our staff is also licensed, insured, and bonded for your peace of mind.
Eco-friendly Cleaning Products
We are committed to using eco-friendly cleaning practices to reduce our impact on the environment while still providing effective cleaning solutions. Our cleaning products are environmentally friendly, safe for people, and do not emit harmful chemicals that could be harmful to your employees or customers.
State-of-the-art Equipment
We use the latest equipment and cleaning products to ensure that your business is spotless. Our state-of-the-art equipment ensures that we can clean your facility quickly and effectively, saving you time and money.
Flexible Cleaning Schedules
At US Janitorial, we understand that every business has different cleaning needs. That's why we offer flexible cleaning schedules to fit your business requirements. We can work around your schedule to ensure minimal disruption to your business operations.
Customized Cleaning Plans
We take the time to understand your business and your unique needs to create a customized cleaning plan that meets your requirements. Our personalized service ensures that we can address your specific cleaning needs, including any high-traffic areas or specialized cleaning requests.
Increased Employee Productivity
A clean and well-organized workspace can improve employee productivity. By hiring US Janitorial, you can ensure that your employees work in a safe and clean environment, free from distractions or hazards that could harm their health or safety.
Improved Customer Satisfaction
A clean and presentable business environment can also improve customer satisfaction. Customers are more likely to return to your business if they have a positive experience, and a clean and well-maintained facility is part of that experience. By hiring US Janitorial, you can ensure that your business is clean, welcoming, and attractive to customers.
Cost-effective Cleaning Solutions
Our janitorial services are cost-effective and will save you money in the long run. We offer competitive pricing for our services without compromising on quality. By outsourcing your cleaning needs to US Janitorial, you can focus on your core business operations and save on cleaning costs.
24/7 Availability
We understand that emergencies can happen at any time, which is why we offer 24/7 availability to our clients in San Jose. Whether you need emergency cleaning services or have a question about our services, our team is always available to assist you.
Contact US Janitorial Services in San Jose
At US Janitorial, we are committed to providing the highest level of service to our clients in San Jose. Our comprehensive range of cleaning services, experienced professionals, eco-friendly cleaning products, state-of-the-art equipment, and flexible cleaning schedules make us the best choice for janitorial services in San Jose. Contact us today to schedule a consultation and learn more about how we
US Janitorial Inc.
+1 855-280-0616
388 Market Street
San Francisco CA 94111 US