Pressure Washing Northshore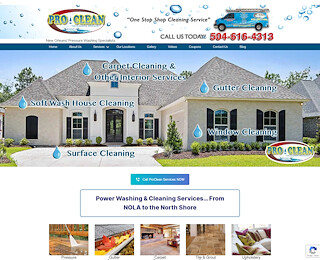 Pressure washing in Northshore rids your home of unwanted mold and mildew to create a healthy and beautiful home. New Orleans is hot and humid and ProClean Services helps combat the elements thriving in our climate.
What does the climate in New Orleans do to my home?
With an average low temperature of over 60 degrees and a high under 100 degrees Fahrenheit, the forest thrives in Louisiana. A hot and humid climate allows mold and mildew to grow rapidly if left unabated.
Your home is constantly bombarded by mold and mildew. Letting your home sit is the same as letting it rot as foreign material attacks windows and exteriors.
How do mold, mildew, and dirt impact my home and health?
Decks and structures weather and weaken. An unclean building, driveway, deck, patio, parking lot or office, cracks and rots when exposed to the element.
Mold and mildew are also dangerous to your health. Spores create infections and can even be life-threatening, significantly impacting your quality of life.
Can I clean my home exterior?
Northshore pressure washing blasts away grime and dirt to create the best environment possible. House power washing scours your property with water or cleaning agents to bind with and eliminate foreign elements.
Annual or even monthly maintenance avoid the classic New Orleans look which is dangerous to the health of you, your family, your employees, and your co-workers. We use a high-pressured heated power washer to thoroughly clean any material.
What type of power washing works with my home?
Your home may be made of delicate material that can chip away under the pressure of an intensive wash. The best powers washing company in Northshore understands the complexities behind your structure and how to thoroughly clean without damaging your property.
Our experts deploy soft washing techniques on such homes. A cleaning agent mixes with dirt, grime, and foreign material to create a foam that a pressure washer gently washes away.
Pressure washing my deck
Decks, particularly wooden decks, hold on to mildew in a way that is difficult to remove. Foreign material can leech into the porous wood, causing damage to your deck.
Pressure washing effectively removes mold and mildew. Our capable machines push water out at a high PSI. The same process works on bricks siding, wood, stucco, fences, driveways, concrete, parking lots, and porches.
Clean homes in Northshore and New Orleans
Dirt and grime are a serious problem in New Orleans. ProClean Services thoroughly cleans your home to produce the healthiest and cleanest possible exterior.
Our high pressure and low-pressure washing account for your home and office to avoid damaging your property in the process of creating a clean space. We want your home, business, and the air you breathe daily to feel fresh again.
Our team quotes prices on a per-job basis dependent on size and other factors. Get in touch with our team today to find out how we can help your home fight the world with pressure washing in Northshore.